SCOTLAND'S deputy first minister wants urgent talks with the European Commission on the process of independence.
Nicola Sturgeon, who is leading the campaign for an independent Scotland, has been belatedly pushed into action by yet another interview where European Commission president Jose Manuel Barroso reiterated his belief an independent Scotland would be outside the EU while renegotiating entry.
He said: "We are a union of states so if there is a new state of course that state has to apply for membership and to negotiate the conditions with the other member states.
"For the European Union's purposes, from a legal point of view, it is certainly a new state.
"If a country becomes independent it is a new state and then it has to negotiate into the European Union."
Mr Barroso added the remainder of the UK would not have to renegotiate entry.
He said: "That is a principle of the continuity of the state in that case."
Ms Sturgeon said she disagreed with that position and is calling for talks to discuss the specifics of Scottish independence following the Edinburgh Agreement, signed by Scottish First Minister Alex Salmond and UK Prime Minister David Cameron in October.
She said: "We do not agree that an independent Scotland will be in the position of having to reapply for European Union membership, because there is no provision for removing EU treaties from any part of EU territory, or for removing European citizenship from the people of a country which has been in the EU for 40 years.
"We are now seeking early talks with the European Commission to discuss the specific process of Scotland becoming independent.
"As the Commission has said before, the matter cannot be separated from specific circumstances – and we now have those specific circumstances as outlined in the Edinburgh Agreement."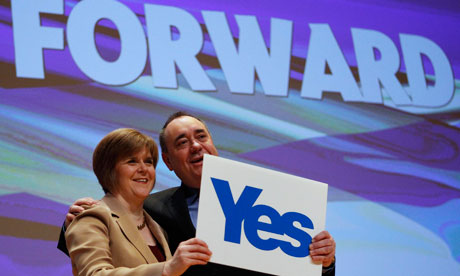 Ms Sturgeon said she believed negotiation on EU membership will be conducted from inside the organisation.
She said: "We have always said that the specific terms of Scotland's continued EU membership as an independent nation will be negotiated – but the crucial point is that these negotiations will take place from within the EU, because in the period immediately following a Yes vote in the referendum Scotland will still be part of the UK and the EU.
"No serious person can argue that it is anything other than in the interests of the EU to keep Scotland in continuous membership, given this country's huge natural resources in energy and other aspects which make us such a valuable European partner.
"The real threat to Scotland's continued EU membership comes not from independence but from the growing Euro-scepticism affecting the UK Government."
Author :
Jennifer McKiernan
Print