THE UK Scottish Secretary has snubbed a Scottish Government plea to help clear up the issue of an independent Scotland's place in Europe.
SNP leader Alex Salmond told Holyrood he wanted the UK Government to make a joint approach to the European Commission, as the Scottish Government could not do so alone.

Mr Salmond said: "It would be useful for the European Commission viewpoint to be heard.
"That's why the Deputy First Minister has agreed to go, jointly with the UK Government, to find out what the Commission thinks."
"The Deputy First Minister has indicated she would be willing to go forward with a joint submission to the Commission."
Questions remain around whether an independent Scotland would have to reapply for EU membership, as has been repeatedly suggested by European Commission President Jose Manuel Barroso.
DFM Nicola Sturgeon has been pushed into asking for UK Government support after her request for talks with the Commission was snubbed.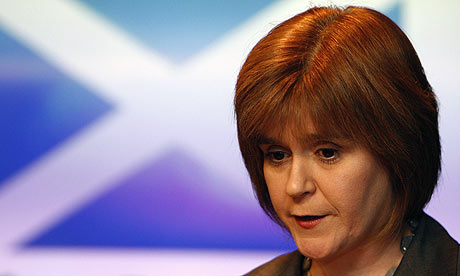 But a Scotland Office spokesman said Scottish Secretary Michael Moore would not be making a joint approach.
He said: "As the Secretary of State for Scotland made clear yesterday, the Commission has reaffirmed its position and the challenge now lies with the Scottish Government.
"Scottish Government ministers have not made clear what kind of independence they would hope to negotiate: there is nothing approaching a precise scenario from them.
"President Barroso has previously made clear his view that any newly independent country that has separated from an EU member state would need to renegotiate its terms: nothing in the Commission Vice President's letter contradicts that view."
The UK's Scotland Office spokesman added no request had been received from Ms Sturgeon but he did not believe the Commission would consider it anyway as the SNP assertion the Edinburgh Agreement set out a specific scenario had already been rejected by the European Commission.
He said: "The UK Government has not received any formal approach from the Scottish Government.
"The Edinburgh Agreement deals with the legality and process of holding an independence referendum, and nothing more.
"It has no bearing on the complex issue of a separate Scotland reapplying to join the EU under new terms."
A European Commission spokesman said the matter could only be discussed with an EU member state, which in this case would be the UK Government as Scotland is an EU region.
He also confirmed the Commission's view a specific scenario does not yet exist, a view he said had been set out in the response to Ms Sturgeon's request for a meeting with EC VP Maros Sefcovic.
He said: "At this stage, no such request has been received.
"The European Commission has indicated in a series of responses – to European parliamentary questions, the House of Lords and correspondence with the Deputy First Minister of Scotland – that it would only be able to express an opinion on the legal consequences under EU law of a specific situation upon request from a member state detailing a precise scenario.
"The letter [to the DFM] was crystal clear – 'in the absence of a precise scenario…he would not be in a position to usefully discuss this further with you'."
Author :
Jennifer McKiernan
Print